Digital Marketing for Crypto & Blockchain
4 min read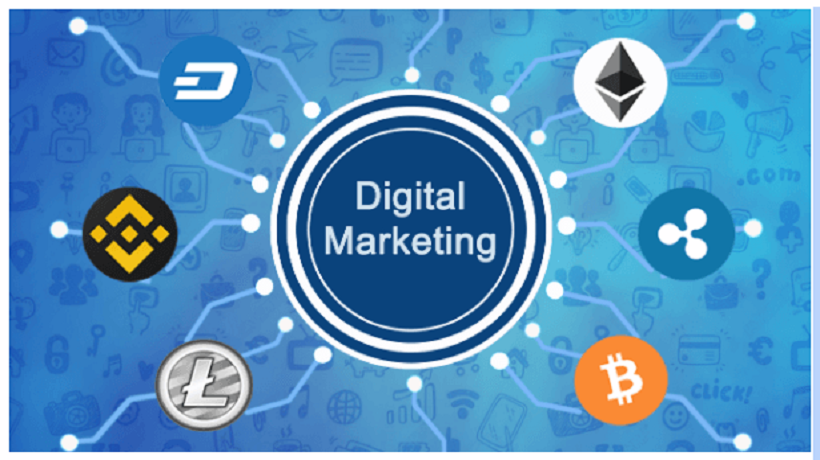 Cryptocurrency and blockchain are two of the world's most popular topics, but few people understand how they work and how to market them effectively. In this guide, we will explain everything you need to know about cryptocurrency and blockchain digital marketing strategies than can help you get to the top.
The digital marketing industry is a rapidly evolving field that is constantly adapting to technological advances. Companies need to be on top of their game to stay relevant in today's market; this means investing in good, effective and efficient digital marketing strategies. You can connect with leading blockchain PR agency to grow your crypto project.
The boosting of your products or services via internet-based channels and tools is known as digital marketing. Paid social media advertising, search engine marketing (SEM), mobile advertising, email marketing, display advertising, online branding and marketing campaigns, and much more are good examples.
Top Crypto Social Media Marketing Channels
Social media marketing is an integral part of any crypto and blockchain marketing campaign. To reach your target audience, you must be present on all of the major social media platforms.
Here are the top crypto social media marketing channels you should consider:
1. Reddit
Reddit is one of the most popular platforms for cryptocurrency traders and investors. It offers you a great opportunity to interact with other users and share information related to cryptocurrencies. You can also promote your ICOs and other products thereby posting relevant links, images, videos and other content on relevant subreddits.
2. Twitter
Twitter is another popular channel that has been used by many crypto influencers to market their ICOs and digital assets. The platform enables users to share short messages known as tweets, which can be just 140 characters.It also allows you to add photos or videos as attachments along with hashtags in order to reach more people who may be interested in your product or service.
3. Facebook
With more than 2 billion monthly active users (MAU), Facebook has become one of the most popular online communities around the world. It's no wonder that many crypto companies use this platform to promote their projects, tokens and ICOs to new audiences.
According to statistics, Facebook users spend 20 minutes per day on Facebook which means they're exposed to different ads while they browse through their newsfeeds, posts and videos every day. If you want to reach as many people as possible with your ads, this is definitely one of the best places to start!
4. LinkedIn
LinkedIn is one of my favourite places to generate leads because it's where business professionals go to find new clients and partners, so it's a great place to share information about your project and look for new connections who can help you build an audience around your brand.
5. Telegram
Telegram is another popular social media channel where you can find active cryptocurrency communities that have substantial numbers of members from all over the world. This makes it an ideal place to promote your ICO or any other digital currency-related product for free.
How to Assess Marketing Success
Marketing is the process of promoting a product or service — the action you take in order to make your business known, to help people understand its value, and to encourage them to buy.
The first and most important step in marketing is understanding your target audience and then answering these two questions below:
1. What Is Your Marketing Strategy?
You need a plan that is adaptable enough to alter as your company develops and evolves. Your strategy should also be aligned with your business goals and objectives. For example, if one of your goals is to grow your email list, then you should be spending time on that channel.
2. How Are You Measuring Success?
You need to determine if your marketing strategies are working for you or not, so you can make adjustments as needed. This can include things like tracking website traffic, conversions and sales, as well as social media engagement metrics like likes and shares. Start recording these figures right away if you don't already!
Marketing Strategy and Its Components
Components of Marketing Strategy
The process of identifying and profitably satisfying customer needs is known as marketing strategic management. It involves creating a value proposition that attracts and retains a customer base – and delivering it through communication, pricing and distribution.
Marketing Strategy Components Include:
Value proposition: The unique benefit or appeal of your products or services that makes them more desirable than others in the marketplace.
Customer segmentation: It is the practice of breaking down a market into smaller parts based on shared features.
This allows you to target various groups at different phases of their relationship with your brand or product.
Positioning: The perception you want customers to have of your product or service in comparison to rivals' offers (including price)..
Communication tactics: How you reach out to customers and prospects; includes advertising, public relations, events and other forms of promotion.
Conclusion
In this guide, we have included some of the most important aspects that you must consider when planning your digital marketing strategy. This will help you get started with the right foot and avoid unnecessary mistakes.
The first thing you need to know is that the crypto market is volatile, so you should expect some losses along the way. However, if you follow these tips and strategies, you will be able to make money from this exciting new industry!
We hope that this guide will assist you in establishing a successful crypto and blockchain enterprise!
About Author