Kitchen Gardening Ideas: Ideas and Inspirations to Beautify your Home the Natural Way
4 min read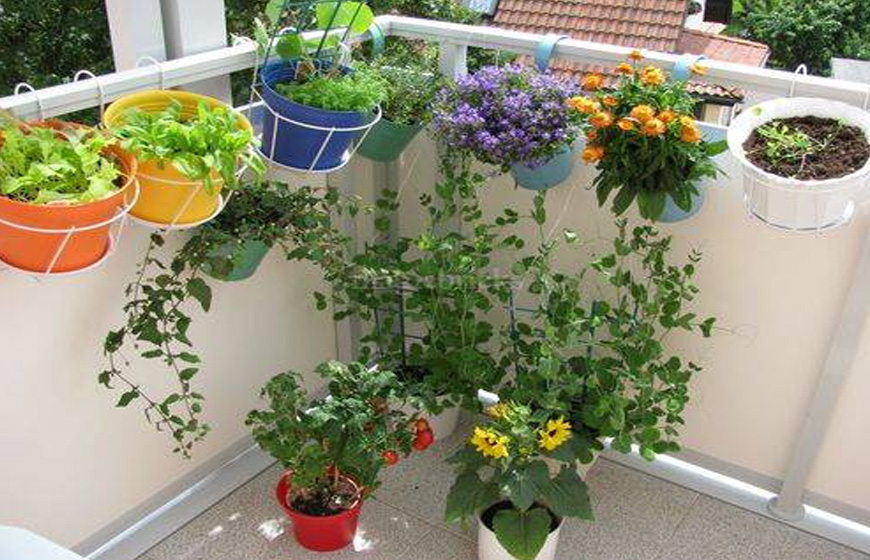 What is a home kitchen garden?
Kitchen Gardening Ideas – A home kitchen garden is the plantation of different herbs, flowers, or vegetables inside the boundary of your house. For kitchen garden idea setups, you can opt for the patio, the garden, the backyard, or even your balcony. All these places serve as potential sites to set up your home kitchen garden. Not only will your kitchen garden plants provide you with a fresh supply of vegetables and herbs daily, but they will also help you to beautify your living compound in a natural way. 
If you live in a building and do not have access to a patio or a garden area, fret not. We have other ideas for you to help you set up your own home kitchen garden. Check out Terrace gardening ideas that will give you an idea of how to go about setting up kitchen garden plants on your terrace.
Benefits of a home kitchen garden
Other than serving beautification purposes, kitchen garden plants serve a lot of other purposes as well. Here are a few benefits of having your own home kitchen garden:
Fresh Supply-Kitchen Garden plants ensure that you have a fresh supply of fruits and/or vegetables for you and your family. This is also a bonus point if you have kids, as your kids won't have to consume fertilizer-laden vegetables and fruits from the market.  
Refreshing Environment– Apart from providing your consumption needs, having a home kitchen garden also refreshes your mind. Nothing is better than having fresh and natural green growths around. It will provide you and your family with opportunities to connect with nature without having to go anywhere else.
Last Minute Recipes– Are you someone who impulsively decides to bake an apple pie, or make a side of vegetable stew? But, do you also hate running to the market for just a few ingredients at the last minute? Then this kitchen garden idea is just for you. With a fresh supply right outside your door, you can bid goodbye to last-minute market errands. Simply walk out to your patio or garden and pluck fresh ingredients for your next scrumptious dish.
Mental Clarity– Connecting with nature provides mental clarity. It refreshes the mind and kicks the happy hormones flowing.
Site for Tea Parties– Become a better and most-talked-about host by hosting tea parties in your kitchen garden. Impress your guests with your collection of fresh produce by inviting them over for tea. The different settings will make your guests happy.
Site for private tea table– Apart from impressing your guests, it will also give you and your family a chance to set up a cute little tea table in the garden. Everyone will love it, and it will motivate the members to sit down once a day for tea and chit-chat.
Hobby– Having a home kitchen garden means caring for it equally and regularly. Rather than mindlessly scrolling through social media, the garden will give you a new hobby to pursue and will lead to a productivity increase in your daily life. 
Setting up your Space for a Home Kitchen Garden: A Beginners Guide
If you are thinking of setting up a home kitchen garden, it might be overwhelming for you to start the garden. We have brought together some best and simple ideas to help you start your home kitchen garden. These ideas are curated keeping the following factors in mind:
Easy to execute
Only simple kitchen tools required
Time efficient
These ideas are given below:
Herbs Ladder– Let's start with herbs as they are the easiest to grow and require minimal care. Take a small ladder and put the herb pots on the steps. This will provide enhanced access. Since herbs usually grow in small pots, getting a small ladder is ideal. Place it near your kitchen for better access.
Patched vegetable beds– This is simpler than it sounds. Dig up rectangular or square-shaped beds, leaving some space in between each bed. Use individual beds for a certain type of vegetable. We would suggest you grow all root veggies in these beds.
Bordered beds– These are patches left along the boundary of your compound walls to facilitate the growth of trees like curry leaf trees, neem trees, or any other tree of your choice. Trees have bigger and stronger roots which make it best to plant them away from the root veggies. 
Raised Planters– These are basically raised pot platforms, but larger. Since you are still in the beginner phase, it is best to have raised planters. If the veggies don't harvest well in there, you can always replace it with flowers.
Veggie Containers– This is a great opportunity to use all the waste baskets or containers like peanut butter, chocolate spread or yogurt containers. Re-use these containers as functional veggie pots by making a few holes at the bottom. Heat the tip of a knife and put it on the surface of the bottom to make holes. 
Easy leafy veggies– Opt for easy-growing leafy veggies as they are easy to propagate and to take care of. Veggies like celery, lettuce, spring onions, or mint and coriander are the best choices.
Layered Gardening– If you have a small garden space, then this idea is for you. You can choose a layered gardening style. The idea is to have a layered garden bed frame, preferably made from metal. This will allow you to increase production in a small area and you can also convert that into a greenhouse when the need arises.
Read more here – Top ways to Manage kitchen utensils effectively
About Author