How Linux Reseller Hosting Provides the Best ROI in India?
4 min read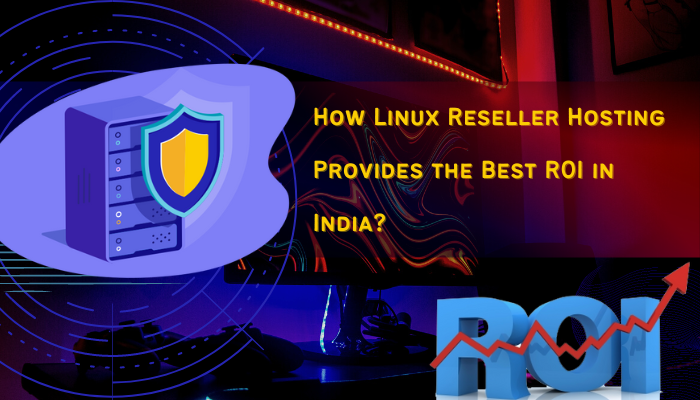 Introduction
Reseller web hosting is a business model of reselling hosting services to your sub-clients. You buy plans and packages from a reliable host. So, in order to earn some profit, you customize the plans and then sell them to the end customers.
Every business person wants to know what their ROI is if they invest in anything. Therefore, we are here to explain what will be the ROI of your Linux Reseller Hosting India business if you invest in it. Also, you will get to know how the reseller hosting plans provide the best ROI. So, let's get started with the understanding of the reseller hosting business.
Reseller Web Hosting Business
The basic understanding of a reseller business is that you buy the hosting packages from a parent web host and then customize them into small ones. After customizing the packages, you mark the prices that suit best to earn profits from the business. And, then you sell them to your customers and they host their sites on your plans and packages. There are many parent host that provides totally white label hosting so that you can sell the services under your company name. However, many web hosts do not allow this and you sell the plan under their company name only.
Moreover, Hosts like Hostbillo provide 100% white-label hosting services. For a monthly fee of about $10.49, you get a Linux Reseller Hosting India plan that you can also sell under your own brand name. With such a small investment think about how much ROI will you get from the business.
How Do Reseller Hosting Plans Provide the Best ROI?
Let's assume that you have bought the reseller hosting services from Hostbillo web hosting company at $10.49per month. So, this is your investment. And, now if you do not add any other services then you create the small bundles of hosting packages that have all the vital resources which anyone needs. Before heading into how much ROI you will get first to know what the company's Linux Reseller Hosting India package includes, it would be much easier for you.
Hostbillo's Linux Reseller Hosting Plans India Features-
Disk Space– 30 GB SSD
WHM– Yes
CPanel Accounts– 15
Bandwidth– Unlimited
Addon Domains– Unlimited
Sub Domains– Unlimited
E-Mail IDs– Unlimited
MYSQL Database– Unlimited
As this package is for a month, the ROI discussed here will be based on that.
Since you get 30GB SSD storage with unlimited bandwidth at $10.49 per month so let's assume the package will be-
5 customers -@ 300MB Disk Space [each] – $4.49/month = $22.45 Revenue
Resources used: 1.5GB Disk Space = 28.5GB Disk Space [left over]
$22.45/mo [Revenue] – $10.49/mo [Expense] = $11.96/mo [Profit] 53.27% [ROI]
As you get unlimited bandwidth with the plan so there will be no such consumption of it. While investing $10.49 per month you get a profit of $11.96 per month and this is the best ROI for any reseller business.
In the plan, you get 15 Cpanel accounts, so now you can calculate the ROI if you will sell all the packages. There will be a lot of disk space remaining so you can also buy more Cpanel accounts and sell them to the customers. This is how you can make a good profit selling Best Linux Reseller Hosting India plans.
Get the Best Linux Reseller Hosting Plans in India from Hostbillo
When it comes to providing the best reseller hosting packages in India, Hostbillo is the best choice. As the company provides the most affordable Web Hosting Services in India, so it's quite beneficial for you to host your website on its solutions. As we have already discussed the plans of Linux Reseller Hosting India and how much ROI you will get. So, it is time to know what benefits its reseller hosting package brings.
Hostbillo offers Cheap Linux Reseller Hosting India plans with complete control to you by providing WHM access.
As it provides unlimited bandwidth with that plan, there will be no such consumption of bandwidth usage.
You get a free SSL certificate that encrypts the data and provides maxim security.
With a Softaculous one-click installer, you can install as many applications as you want in the system. You get this tool for free with the Linux Reseller Web Hosting India package.
Also, you can host unlimited domains and subdomains to your reseller hosting account.
With 24*7 customer support, the company has a professional technical team to solve your queries.
Free migration assistance is also available if you are relocating your services to Hostbillo's.
Conclusion
So while discussing the ROI that you get from Linux Reseller Hosting India business to why Hostbillo is the perfect host for your business. You have come to the very end of the article, now you know what is good, what is not, and how much profit you can generate. So, this is the perfect time to invest in reseller hosting plans and establish a hosting company in India. Hostbillo will help you in each step when setting up your account, so you don't have to worry much. Just the plans and sell them to the sub-customers, that's all you have to do.
About Author