Incredible Features of the January Birthstone
4 min read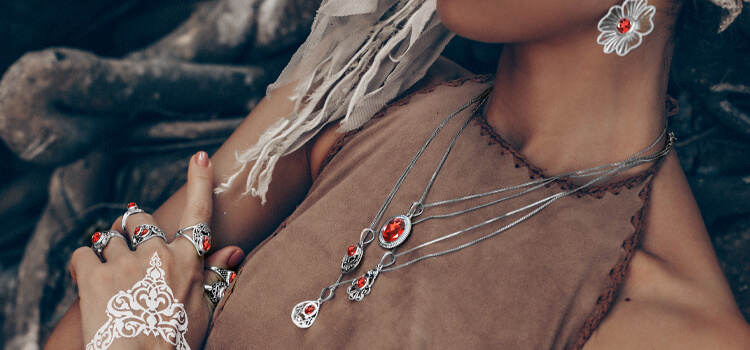 History and Meaning of Garnet
Garnet is the traditional birthstone for January month. Garnets are commonly red but also found in a stunning range of beautiful colors, including purple, orange, and green. The stone healers believe that including the garnet gemstone in life can bring good fortune, health, and wealth through their natural vibrations.
Garnet is one of those gemstones that has been treasured since ancient civilizations. Ancient Egyptians used the stunning Garnet to form different weapons and wore it as talismans. However, over time, Garnet Gemstone also came into use in making various Gemstone Jewelry ornaments.
The term Garnet is derived from the medieval Latin word granatus means pomegranate, which looks similar to the red color.
Currently, the garnet gemstone comes from different locations around the globe including Myanmar, Brazil, Afghanistan, and many others. But Bohemia was one of the key sources of finding the best quality stone during the Victorian times.
Healing Features of the Garnet
Garnet is one of the beautiful gemstones throughout the stone world that is recognized for significantly grasping healing and metaphysical advantages. Here are mentioned some of them.
Wearing the Garnet is perfect for getting physically cured and healthy, as the gemstone carries purification and detoxification abilities. In addition, it is believed to guard against viruses and infection and enhance the body's immune system. Further, body, heart, blood, metabolism, and lungs work well whoever hold the crystal. It is also great for controlling cardiac rhythm, sudden panic attacks, and muscle pain.
On the other hand, exercising with the Garnet will also help you to get emotionally fit. Wearing jewelry pieces made from the garnet crystal will help you overcome adverse times, grief, and sorrow and give positive affection. In addition, it can change your perceptions to see life positively.
Wearing Garnet Gemstone Jewelry also gets you fit from a metaphysical point of view, as it dispels anger and fear from your life. It is considered lucky for bringing love, success, and peace in its life.
Birthstone and Zodiac
January-born persons can claim the garnet gemstone as their official birthstone and grasp the astrological benefits by establishing it properly. In addition, the Garnet Ring is also suggested for those born under the zodiac sign of Scorpio and Capricorn, as it provides them its related planetary benefits.
Garnet Jewelry
Garnets are an alluring gemstone for any form of jewelry due to their striking existence and appealing monetary value. Therefore, Garnet is the preferable stone by Jewelry enthusiasts and jewelers. From Garnet Earrings to studs, Garnet necklaces and pendants, each form of jewelry is popular among gem lovers. As a result, youngsters opt the garnet pieces to get a bold and classic look.
Garnet Proper Caring and Cleaning
Gemstone jewelry will accumulate dirt and grime from daily wear. Therefore proper cleaning and caring is a must for using fine pieces of jewelry for a long time. The garnet gemstone ranks 6.5 to 7.5 on the Mohs scale of hardness and is more brittle than other gemstones like Aquamarine and Amethyst. So we suggest you wear the jewelry occasionally. So, i have compiled a list of some tips on cleaning and caring for your Garnet Jewelry in a specific manner.
Use warm soapy water to clean the surface of the garnet gemstone. Avoid any harmful detergent and liquid to clean your crystal, as it can damage your gem forever.
Store the garnet gemstone jewelry pieces separate from the harder gemstones because harder gems can destroy your crystal by scratching each other.
Moreover, you should put off your Garnet pieces while doing household activities like cooking, laundering, and gardening. These rough and tough activities can tarnish your gem as well as the metal.
Bottom lines
As we have learned, the Garnet is an excellent crystal across the stone world, as its deep intense color can captivate anyone. In addition, the Garnet makes an evergreen compilation of jewelry when incorporated with shimmering metals like 925 sterling silver and rose gold. Thus, you can enhance your jewelry collection by including fine pieces of garnet jewelry.
Author Bio
My name is Hadleigh Perez I have been serving Sagacia Jewelry under the capacity of Product Manager head for more than 2 years. Sagacia Jewelry is a global jewelry manufacturing firm based in India that deals in more than a hundred varieties of gemstones and a choice of metals and vermeil. We use only authentic and ethically sourced gemstones to create jewelry loved by jewelry resellers worldwide. Each jewel that bears the signature of Rananjay Exports will come with a promise of quality and that is why we offer you the Opal Jewelry and other gemstone jewelry that is one of kind and unique. For us, our clients come first and we aim to make the overall purchase experience extremely convenient and rewarding for our authorized members.
About Author