Types Of Rings You Can Gift To Your Loved One
3 min read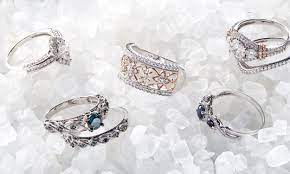 Gifting a ring to your loved one is a pretty symbolic gesture. For years, rings have been touted as one of the most meaningful pieces of jewellery. They can show love, luck, care, and a promise of eternity. That's how powerful rings can be. So, if you have been planning to gift one to your sweetheart, make sure you put sufficient time, thought, and effort in picking one.
Usually, there are different types of rings – each holding different significance and meaning. In this article, we have tried to jot down the most common ones. Read carefully and then decide what suits your reasons for the gifting.
Promise Rings
As the name suggests, these are the type of rings that should be given at the beginning of a relationship. They can be simple rings with a little diamond or a gemstone on top. People also love promise bands with a touch of minimalism. The best metals for such rings are gold and platinum. This will show that you are willing to make them your partner. A promise ring also reflects your commitment to them. So, make sure you pick them only when you are quite sure about your partner.
Now when we say loved ones, it does not necessarily mean your partner. You can also gift rings to your friends, sisters, daughters, or mother, or other significant women in life. In such case, try different rings like birthstone rings. This ring shows that you want to bless them with luck and good energies.
Find out the date of birth and then consult a jeweller to learn about the birth stone. Just make sure that the quality is best and the stones stay right in the place for a long time.
Engraved jewellery pieces are back in trend. From necklaces to rings, you can find plenty of jewellery with letters and names engraved. The best part about this ring for girls is that it can be worn on a daily basis. Whether it is a traditional dress or a modern outfit, engraved rings can complement any attire while making it quite unique.
Engraved rings can be gifted to any significant woman in your life just like the birthstone rings. But if you want to make it more romantic, just play with the engravings.
If you like to go bold and surprise your loved one, go for statement rings. They are distinct pieces that can instantly catch anyone's attention with their heavy and exquisite designs. Visit any online and offline store to see the trending collection. You can find a plethora of statement rings of different sizes and styles.
If you find it confusing, take help of any female friend or someone who knows the likes and dislikes of the person you are giving the gift to. And if nothing clears up, opt for a gold statement that's classy and comfortable to wear. You can also ask the salesperson to help you out of the dilemma.
This is definitely one of the most important types of ring. And that's why it is such a daunting task to buy it. The engagement ring has to be the epitome of beauty to show your everlasting love. If you want the best, go for a diamond ring. There are plenty of engagement rings – from princess cut to solitare. For the band, you can choose from gold, platinum, rose gold, or white gold based on your choice and budget.
If diamonds are over the budget, go for gemstones like Moissanite or Morganite. They are the best alternatives to diamonds. Pick a ring that complements your partner's personality. Also, keep in mind that if she says yes, the ring is going to be on her fingers for forever. So, make sure you choose a comfortable and durable ring.
Now that you are aware of the types, it's time to do the shopping. All the best!
About Author