What Are The Requirements For Applying for a Green Card? Applying for a Green Card
4 min read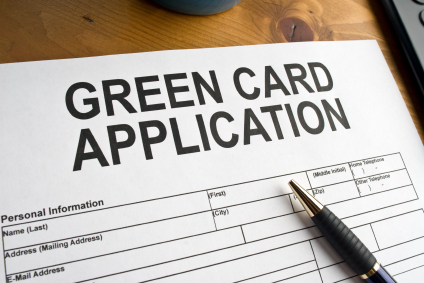 The USA has always been a desired destination for people all across the world. Developed infrastructural cities, beautiful landscapes, innovative industries, technological hubs, and a higher standard of living are all the perks one can live with while being a U.S. citizen. The "American Dream Green Card" has inspired many people in the past, and the trend continues to grow.
The developed states of the U.S. has always been an attraction, as they have also remained a cause for immigrant attraction for many decades. However, with the change of governments in the U.S., the policies may have shifted from pro-immigrant to anti-immigrant, but the immigrants' expansion is still gaining momentum.
What is a Green Card?
The Green Card permits foreign nationals to become Lawful Permanent Residents (LPR) of the United States. Furthermore, the Green Card enables non-U.S. citizens to reside in the states legally.
Once after living for a specific duration in the U.S., the Green Card holders can additionally apply for neutralization and become U.S. citizens.
Types of Green Cards
A Green Card is further divided into categories depending upon the nature of the visit or stay of the immigrants. The major types of Green Cards are as follows:
Green Card for Employment-Based Immigrants
As per U.S. law, foreign nationals can also become Lawful Permanent Residents of the U.S. through employment-based immigration. By finding employment opportunities in the country, the applicants can get a through employment-based immigration.
Furthermore, employment-based immigration is divided into three main categories.
First Preference (EB-1)
This category is specifically for the "Priority Workers." The applicants under this category are considered exceptional workers or those immigrants who are given preference over their abilities or talents.
The priority workers are those applicants having:
Extraordinary ability in Science, Arts, Education, Business, or Athletics
Experienced in teaching; Are Professors and Researchers
Certain Multinational managers and executives
Second Preference (EB-2)
Under this tier fall those applicants with experience in professions with advanced degrees or exceptional abilities. Furthermore, applicants having special skills can also apply for National Interest Waivers (NIW).
Third Preference (EB-3)
This category is for skilled workers, professionals, or experienced workers in other technical and managerial occupations.
Requirements For An Employment-Based Green Card
If the applicants fall under the above three preferences and live in the U.S, then an immigrant visa is provided to them immediately under the EB-1, EB-2, or EB-3 categories. These immigrants can also apply for Adjustment of Status or permanent residence by meeting additional requirements.
The application process may vary for applicants currently living in the U.S. and those outside the U.S.
Green Card for Family Preference Immigrants
The U.S. permits the family members of U.S. citizens and Lawful Permanent Residents also to become Green Card holders based on specific family relationships.
By filing the petition for family preference categories, U.S. citizens can invite them to the U.S. on for Family Preference Immigrants Category.
The family members eligible to apply for a Green Card under the preference immigrant categories are:
First Preference (F1):
Under this category, U.S. citizens of unmarried children (21 years of age or above) can file a petition for a Green Card.
Second Preference (F2A):
Spouses and children (unmarried and 21 years of age or above) of lawful permanent residents are encouraged to file a petition.
Second Preference (F2B):
Unmarried sons and daughters (21 years of age or above) of lawful permanent residents can apply.
Third Preference (F3):
U.S. citizens' married children (sons and daughters) can apply for this petition.
Fourth Preference (F4):
Brothers and Siblings of U.S. citizens (if the U.S. citizen is of 21 years or above) are also allowed to file the petition.
Requirements For An Employment-Based Green Card
A primary requirement for this category is to demonstrate a qualifying relationship between the applicant and the person to be sponsored. In addition, the requirements also include a petition to be filed by the family member (U.S. citizen).
Green Card for Immediate Relatives of U.S. Citizen
The Green Card holders can file a petition for immediate family members or immediate relatives to immigrate to the U.S. as Lawful Permanent Residents.
Spouse (husband or wife)
Unmarried children (under 21)
Unmarried son or daughter (any age)
The process begins with filing a petition I-130 for parents.
Requirements To Apply For a Green Card
To begin applying for a Green Card, the applicants must know about their eligibility of applying for a Green Card.
Eligibility
As defined above, Green Cards are categorized into various categories, each with its requirements. The eligibility requirements could change depending on the immigrant category you're applying under.
Current Status
The application process becomes different for the applicants living in the U.S. at the time of the petition and vis-à-vis applicants outside of the U.S.
How to apply for a Green Card? Unable to understand the Requirements?
Filing an immigration petition individually can be challenging as it involves proper information about the eligibility conditions and a clear understanding of the whole process. Sometimes, the filing process becomes a daunting task and may have hurdles.
We are a firm based in Connecticut and New York, specializing primarily in U.S. immigration and nationality laws. The experienced immigration attorneys on our team stay updated with the latest immigration news and regulation changes to ensure our clients always receive the best advice possible regarding their cases.
This allows us to provide immigration services and advice that makes you feel informed 100% about how to make the best decisions for your case.
About Author