Avoid burglary with this ultimate guide
10 min read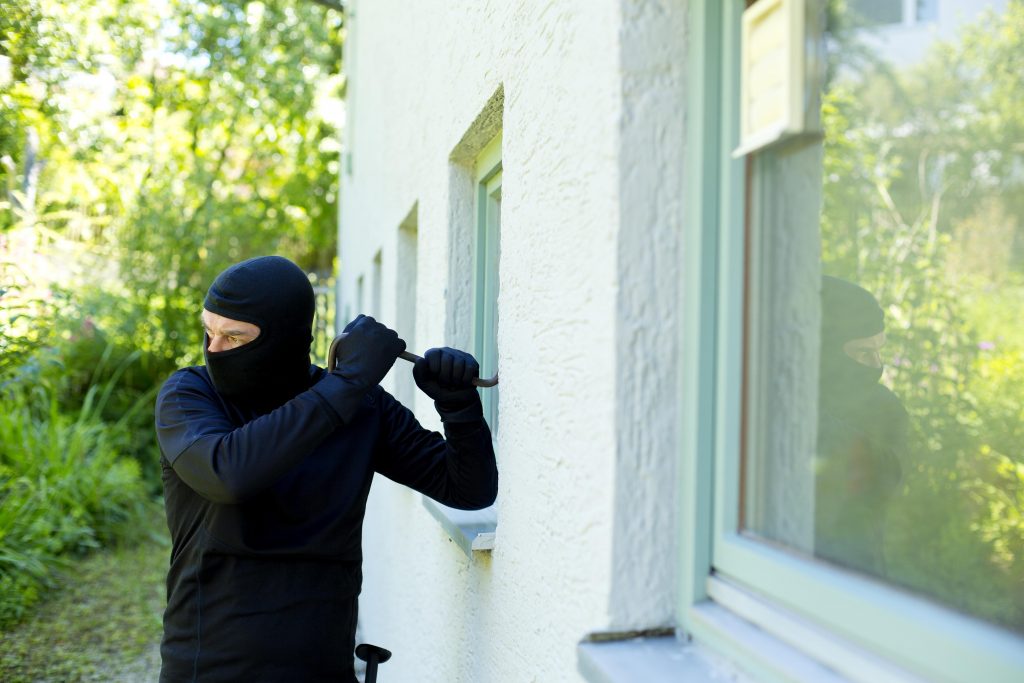 Here are good tips on avoiding what most people fear during holidays and holidays and when the house is otherwise empty – namely how to avoid burglary. The thieves know that the vast majority of families have gathered around, e.g., holidays, Christmas, Easter, and other major holidays – and that equates to lots of empty houses and plenty of time to empty the house of valuables.
If you want to avoid burglary, or rather prevent burglary, here are a few tips and tricks on how you can avoid returning home to an empty and end-facing house. An episode that can have more consequences than just losing things. But also lasting fear and discomfort that strangers have been in all one's private belongings and messed around in the children's rooms.
What you usually do
Do what you usually do when you leave home. First, of course, lock doors and windows. Next, check that you have locked your shed and your garage. Then, take a walk around the house and see if everything should be removed if necessary. Tools, ladders, and the like, so that thieves do not get extra help when you want to avoid burglary and not precisely encourage it.
1. Curtains
Do not roll all your curtains and close the house thoroughly, even though you might think it would help avoid burglary. Show instead that there is nothing to catch up on if they were to look inside.
2. Automatic light-on by the sensor or twilight sensor
Thieves do not like to be seen and get attention. Automatic light-on, light with the twilight sensor, or light-on with the sensor are good to have. And it works. An illuminated house is not attractive to break into. It attracts the attention of neighbors and passers-by, and one immediately notices if things are not as usual. Lighting is an effective way to avoid burglary. But do not set up lighting that can bother the neighbors. Then the neighbor help smokes safely in the sink.
3. LED bulbs
LED bulbs are available in many variations—both for new and older sockets.
Are you afraid that your electricity bill will run wild if you have lights on around the house? So buy LED bulbs. Most LED bulbs have a lifespan of more than 10,000 hours, so the price is quickly earned back home.
4. Turn on lights and sound inside
Turn on lights inside so the house looks inhabited when you are not home. And feel free to use an hour so that it is not on 24 hours a day. You can buy small timers that go on the network to turn on and off the network with your smartphone. Several alarm companies are included in the start-up packages you can get and can also be purchased later.
It can also be used for other than lamps. For example, you can turn the TV or radio on and off. Often, thieves have tricked it with people having the light on, but not many people have the television while on vacation, as it is half-expensive in power. A small note is that not all televisions turn on when you turn on the power. Some go on standby. So you have to make sure of that first. Alternatively, you could turn on the radio. Set an automatic timer, and you do not have to worry about it while on vacation.
Do not light only a single candle inside a room or similar. It smells far away from an abandoned house when everything is empty and neatly tidy, but a single candle is lit.
5. TV simulator, so it looks like someone is watching television in the home.
Leave your TV off and use a TV simulator instead. It simulates a switched-on television and has a more significant effect than switched on lights, as very few people have televisions to be switched on while on holiday. As mentioned, a radio with loud music can also have a preventative effect so you can avoid burglary.
6. Neighbor help
As a neighbor, you are usually always ready with a helping hand to keep an eye on the house during the holidays. After all, one service is worth the other, so help each other. And your neighbor probably wants to avoid burglary too. Ask the neighbor to empty your mailbox. Look for foreign cars and people. Check for stickers on the house or rubbish lying on the ground. The thieves often mark the homes before they break-in, knowing there is something to go after in the place. It is a widely used phenomenon to put small stickers on windows, mailboxes, or plinths and put some rubbish in the driveway. If it snows around Christmas, ask the neighbors to send the kids over and make some footprints in the snow or get them to build a snowman. Neighbor assistance can be crucial in avoiding burglary.
If you have an alarm that is set up to call you when the alarm goes off, it is a good idea to put your neighbor on the call list, so in case you do not answer the call, it will be forwarded to it next on the list. Of course, agree with the neighbor before putting them on the list. Agree if necessary what you do in case of burglary. Then, of course, offer to reciprocate the service, so you can work together to avoid burglary.
Neighbor help can also come in the form of less patrolling. Both to see if there should be anything unusual in the neighborhood, strangers, cars, or strangers. The busier the community, the better.
Beware of getting too paranoid and suspecting anything and everyone you do not know. Use common sense. And remember that if you see a burglar going on with burglary, get in touch with the police and do not take action yourself. Material things are not worth the risk of putting your life on the line. Burglars can panic and act violently. See if you can get a few pictures or videos taken of them and their car.
7. Let the dishes stand and prevent burglary
Okay, maybe it's not only the dishes that make it possible to avoid burglary, but finally, you can leave the dishes with a clear conscience. It can help avoid burglary. The more the house looks used, the better. Most people clean the house, clean it up and leave it behind, so it's nice to come home after a vacation. But it pays to let it mess around a bit and make it look inhabited. There is no reason to signal that no one is home.
The same goes for the trash can.
8. Laundry on the clothesline
Clothes can be hung on the clothesline to bring some life in and around the house. Although one should not attach much value to this tip, it may help in the big picture. They are the few who hang out clothes if it is up to Christmas you go on holiday. During the summer period, it will make more sense. Moreover, the clothes should not have great value for obvious reasons either.
9. Video surveillance
It's good with video surveillance. It can scare more burglars away. It will also link the burglars to multiple burglaries if there are pictures or recordings of them.
You can buy wireless WiFi video surveillance from a few hundred kroner and up to several thousand. So research the market well and buy the ones that best meet your needs. A few of the things that you should look for are features like:
Location: There is a big difference between whether the camera should be outside or inside.
Image quality: Depending on the price, you must decide how sharp quality you want to record in. A resolution of, e.g., 640 × 480 is low resolution, but still valid to see what is happening in the image and possibly. Identify a burglar. If you want HD quality, you need a minimum of up to 1080.
Infrared lighting: Record and see what happens at night. Burglary often takes place at night under cover of darkness. So this feature is good to have.
How large an area the camera should monitor: The slightly more expensive video monitors have the option of being rotated using your smartphone. Then you can cover a larger area or change the angle of the shot.
More and more people are starting to buy dummy cameras for "video surveillance." Video surveillance is similar to cameras that record but empty and may have a red light flashing. Of course, it is difficult to see with the naked eye that a camera is a dummy in the dark. But keep in mind that burglars also follow the web and investigate what type of video surveillance is a dummy. But it can be something that casts doubt on the thieves.
Remember that it is illegal to film neighbors and people outside your property who have not consented.
10. Signage
Sign with alarm in the house. Many put stickers and posters on the windows with alarms or video surveillance in the house. Some have alarms, and others do not. But some thieves will become insecure and move on to a new house. So yes, no matter how annoying it is, the thieves probably do not go home at the sight of an alarm or two, but they are in all likelihood looking on to the next house.
Set if necessary. Dog signs up. If there is anything thieves have respect for, it's dogs. But how much effect the sign has is unknown. Some thieves have prepared for dogs and stunned them.
You can get signs for windows and doors at several webshops, but I recommend that they be obtained from alarm companies. Either at your own alarm company, where they are usually free or at an alarm company, where they will sell someone to you. Also, remember to buy someone who says "Camera Surveillance". Whether you have it or not, it can bring uncertainty to the amateur thief.
The alarm company has a large selection of different types of signage.
I want to emphasize that these signage methods and video surveillance in themselves can not prevent burglary, but it can help create a preventive effect.
Avoid having values ​​lying in front so that you can see them from the outside
It might be more of a reminder than an actual tip. But remember to keep your valuables away or put them out of sight from the windows. There is no need to show that the house has readily marketable values. And remember, your insurance company does not replace that currency. So either take them with you or get them in a safe. It can be an excellent idea with a safe deposit box for money and heirlooms like jewelry.
11. Document your belongings
Have documented all your things in a picture or film to remember what you have of things. In case of burglary or fire, you can easily forget about jewelry, etc. It can be challenging to remember up to several hundred possessions, yes, maybe even 1000 in case of fire. So it can be both expensive and annoying for you not to remember what you own. Or be able to document it.
12. Social media
Social media – yes, it's hard not to make status updates with delicious holiday photos on social media. But the fact is that the thieves come here to see which house they can break into. You can do a few things to avoid handing over your home as "burglary-ready." First, you can make your status updates private. I would recommend you read how to decide for yourself who should see what you share on Facebook. Of course, you can also wait to make status updates until you get home. As an extra note, it is also not recommended to post your expensive design furniture, etc., as thieves often have orders for particular furniture and the like. So make your status updates private and share only with friends and avoid burglary.So another reason to wait to post photos or make the settings private.
13. Locks and window safety
If you have older locks in your doors, have them replaced if necessary. Keys such as Ruko Garant Plus are drill-secured and dirke-secured. Copies of the key can also not be made unless a code card is presented. At the same time, you can take advantage of the opportunity to get the same lock in all doors and the mailbox, so you can settle for a single key.
At Locksmith Tampa, you can get professional advice regarding keys, locks, lock cylinders, padlocks, etc.
It is a perfect idea to replace the locks you have with the knob on. If you have to use a key on both sides of the lock, it will undoubtedly make it difficult for the thief to use the door as an escape and transport route. You may be lucky enough to avoid burglary completely, as the thief can not just settle for a small hole and stick his arm in and unlock it.
Do you have patio doors where it only takes one turn with a handle before you can open the door? It complicates the work of the thief. Both when he wants to enter, and if he tries to run away with your belongings, it reduces his escape routes if he has to leave quickly.
Older houses, and some newer ones, often have windows that can be easy to break open and open. Install some window fuses to make burglary more difficult.
About Author