Tips to Sharpen Your Crypto Trading Skills
5 min read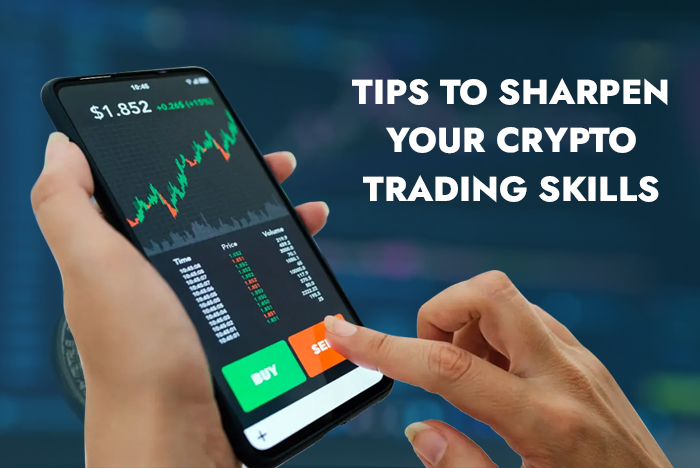 The Crypto market is highly volatile however, it's  rewarding also due to its high rate of return on investment. It is advised that while starting crypto trading, you should focused on nurturing your crypto trading skills.
The development of these skills cannot be done or completed within one day or a short period. It needs time and you can only enhance your skills after focusing on some tips and tricks. You must train yourself to deal with the volatility of the cryptocurrency market.
For this, it is required that you must be using the proper skills and knowledge while coping with the disturbances in the crypto world. You must be ensuring that while doing the crypto trading, you must be having all the relevant information so that possibility of any major mistake could be reduced.
The tips and tricks for enhancing crypto trading skills are very necessary as knowledge solely cannot provide you with higher rewards. If you are willing to get huge returns through the crypto market, we are here to recommend some of the tips that will lead to sharpening your crypto trading skills.
We are sure that these innovative tricks will help you in making more money through crypto trading. So let us discuss some of the major tips to improve your crypto trading skills.
1. Do Your Research
You must conduct thorough market research because it will give you an understanding of cryptocurrency and many other things. The instability that the cryptocurrency market maintains, is one of the important reasons to conduct a thorough study.
As a result, if you keep doing the study, you will always get to aware of new trends in the crypto world. Additionally, since many individuals avoid research, doing it provides you with an advantage over other crypto investors.
2. Avoiding Pump (Fake) Groups
Many groups are operating nowadays to deceive people into placing their money in the wrong places. Yes, individuals oversee a sizable crypto group that offers predictions as well as other advice on how to handle the market's turbulence.
It is something that you have to be very well aware of. Due to the high volatility of the cryptocurrency market, people search for ways to receive assistance. Unfortunately, many make a mistake and enter these pump groups as a result. You shouldn't do it since these organizations may give you misleading information or cause you to lose money.
3. Focus on Learning the Process of Crypto Trading
Some people believe that learning how to trade with cryptocurrency is not difficult, while others have the opposite opinion. The truth is that we cannot categorize anything as complicated or simple. It depends on the person's level of understanding.
People who are constantly curious about digital currencies might wish to learn more about them. They don't burden themselves with the learning process. You must thoroughly understand buying and selling cryptos if you want to succeed as a crypto trader. There are numerous websites where you may find the information; always pick the one that presents it in an easy-to-understand manner.
4. Following Experts on Different Social Media Platforms
In the era of social media, you only need to click to find a variety of skilled traders. Twitter and LinkedIn are the social media sites with the most value. You can read about their experiences, methods, viewpoints, and more here. There is therefore much more to learn than simply scrolling.
If you don't believe it, you should investigate it for yourself. Regarding ad hoc research, you may just post a hashtag for the subject you wish to learn more about. You'll spend less time doing it and can get more information.
5. Always Invest Small Amount in Starting Phase
Small-scale investments are a crucial step you can take to improve your crypto trading skills. Many people think that professionals spend a lot of money on millions and bitcoin trading, but this is untrue.
Experts do this, but only because they have a lot of money to spend; you shouldn't pay this much money because you might lose it. It is strongly advised that you set a daily budget for your crypto investments while you are just getting started and that you always aim to keep within your investment parameters.
By investing a small amount, you can be able to learn about the tactics of the crypto world. After sharpening your trading skills, you can increase the amount of investment as at that time, the risk of losing money will be less.
6. Watch Informative Videos
People can now learn a variety of skills online owing to technology. Many people would rather watch videos than reading books. The best place for enhancing your trading knowledge and abilities is YouTube. It's possible that certain videos won't match your interest. However, you will still find the right ones quickly.
Other websites besides YouTube exist where people can impart their knowledge to others. All you need is a gadget, which could be a laptop or a phone.
7. Play Crypto Fantasy Trading Games
In the present world, the concept of crypto fantasy trading games has evolved. This is an innovative way through which you can sharpen your crypto trading skills. These play-to-earn games help in winning rewards even in your learning phase also.
These crypto games would be playing an active role in innovatively nurturing your trading skills. However, you must choose the best crypto trading games as there are many available in the market.
Trade the Games is one of the best crypto trading games where you are not required to invest any money. This is a unique concept as by playing this game, you will not be having the risk of losing your hard-earned money. If you are a crypto trading learner, this platform will help you in enhancing your crypto trading skills.
Also Read – All You Need to Know About Travelling to Goa
If you are willing to sharpen your crypto trading skills, it is highly significant to consider all the above tips. These tips for crypto trading will help you in adding some more points to your trading skills.
About Author