All You Need to Know About Travelling to Goa
5 min read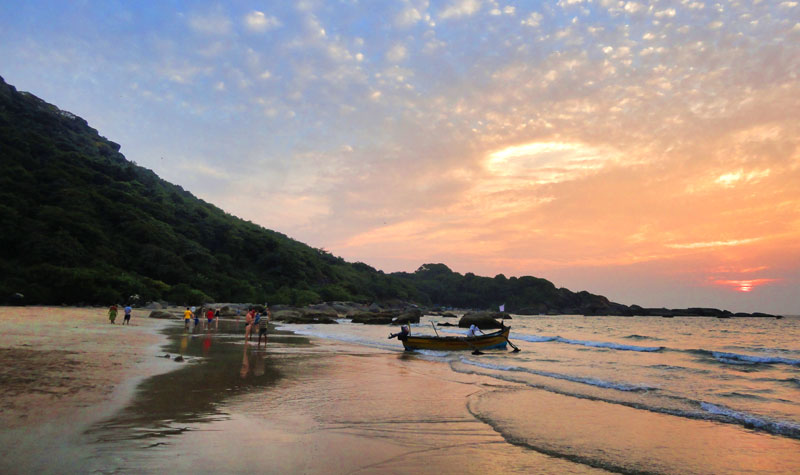 Goa is known for many things that enthral avid travellers and thrill-seekers alike. You get to explore beaches, nightlife, Portuguese culture influence, exotic food, flea markets, and some historical sights as well. This is one of the most intriguing tourist destinations that let people find their own vibe either with the crowd or in solitude.
Anjuna is one such region where you get to experience plenty of such adventures. And if get a nice hostel in Anjuna beach, the exploration gets easier and way more interesting. Anjoned Café & Hostel has been making the tour of North Goa easier and more exciting for travellers for years now.
With a wide choice of dorms and rooms, multi-cuisine food, a bar, aesthetic and travel-friendly environment, this hostel makes the stay of every guest euphoric. And while doing that, it also helps travellers make the most of their tour with some useful insights. In the same vein, here are suggestions that will help travellers make the most of their tour of Goa.
Things you need to keep in mind while travelling to Goa
Choose North For Adventure, South For Solitude
Before you even plan your itinerary, decide what you want to do in Goa. If you are particularly interested in exploring the nightlife, crowded beaches, parties, and water sports, then come to North Goa. But in case you're in the mood to find solace, choose South Goa. In this particular region, you find serenity and solitude. The beaches and Pierdom are less crowded and you get to explore the quaint beauty of Goa that's palpably soothing and amusing at the same time. 
Avoid Drinking On Streets & Public Places
Goa has always been known for cheap liquor and the acceptance of its consumption in public places. It's true that drinking is not as frowned upon here as it is in other parts of the country. However, refrain from fostering the thought of drinking in busy streets and markets. There are new rules in the state and such behaviour might lend you in trouble easily. Enjoy your booze in a dedicated place like a bar or pub.
Choose Eateries After Some Research
Goa is also popular for exotic and authentic seafood along with some unique vegan delicacies too. And if you're visiting a place that boasts of a unique culture, you surely don't want to miss the food there. You have plenty of eateries offering seafood in different varieties. And you already know the drill for choosing a nice restaurant for pleasing your taste buds. Check their menu online and check the reviews thoroughly.
Be Bargain-Ready In The Flea Markets
In the flea markets of Goa, you find a bevvy of items that lure you to possess them. Now if you're used to shopping in busy markets in metro or tier-2 cities, you know how to do that. But in case, you're a new-age e-commerce shopper who has never haggled over costs with the shopkeepers, you will need some help. It is recommended to consult a local before going to such flea markets.
Rent A Bike/Scooter To Explore
Hiring cabs or taxis every time you need to go from one place to another will certainly put a big dent in your pocket. Renting a bike/scooter makes your job very easy and makes your visit to Goa very easy. It makes your exploration very convenient and if you are here with friends, the sharing of expenses makes it even cheaper. All in all, it's a great means of exploring Goa.
Carry Cash Always
Goa shows you quite a decent picture of digital India, however, it is always recommended to carry cash. That's because there are many small shopkeepers and street vendors who can't offer that facility to their customers. Furthermore, you might face network issues or server malfunctions anywhere. So it is best that you keep some cash handy always when you're exploring the nooks and crannies of Goa. It'll keep you prepared for any eventuality in shopping.
Book Your Room In Advance
Don't make the mistake of relying on the on-spot booking upon your arrival, especially when you're vising in the season. Book your rooms in advance and make sure that you have a soft as well as a hard copy of it. Also, being a smart traveller, you must also be mindful about carrying some approved identity like adhar card or driver's license. Make sure that carry them in a small pouch that's always tied to your body.
Explore Nightlife & Parties Carefully
The nightlife in Goa lures people not only from India but from other countries too. The parties on the beach and the plush clubs are certainly worth exploring. However, it is very important for tourists to be cautious while visiting such places. It's not that you need to be paranoid in these places, but it's wiser to avoid unnecessary advances from strangers. Also, you should avoid taking a stroll on the beach or in any secluded place in the nighttime.
Goa is a place that inspires you to be a globetrotter. It gives you so many experiences at the same time and helps you live them to the fullest. And with the right stay, your entire trip becomes more enjoyable and memorable. Anjoned is a cafe near Anjuna beach that makes your tour absolutely thrilling and unforgettable.
It is the best place where you can find a befitting stay as per your budget. Whether you're visiting Goa on your own or with friends, you find an appropriate setup here. The amenities are exceptional along with a huge lobby where guests can spend leisure time enjoying refreshing drinks and mouth-watering food.
The Greece-themed hostel bemuses every spectator. On most evenings, you find yourself getting entertained by lively performances by talented artists and bands. You find all types of drinks and a wide range of food options to delight your palate. All in all, Anjoned ensures that your trip to Goa becomes a great memory.
About Author